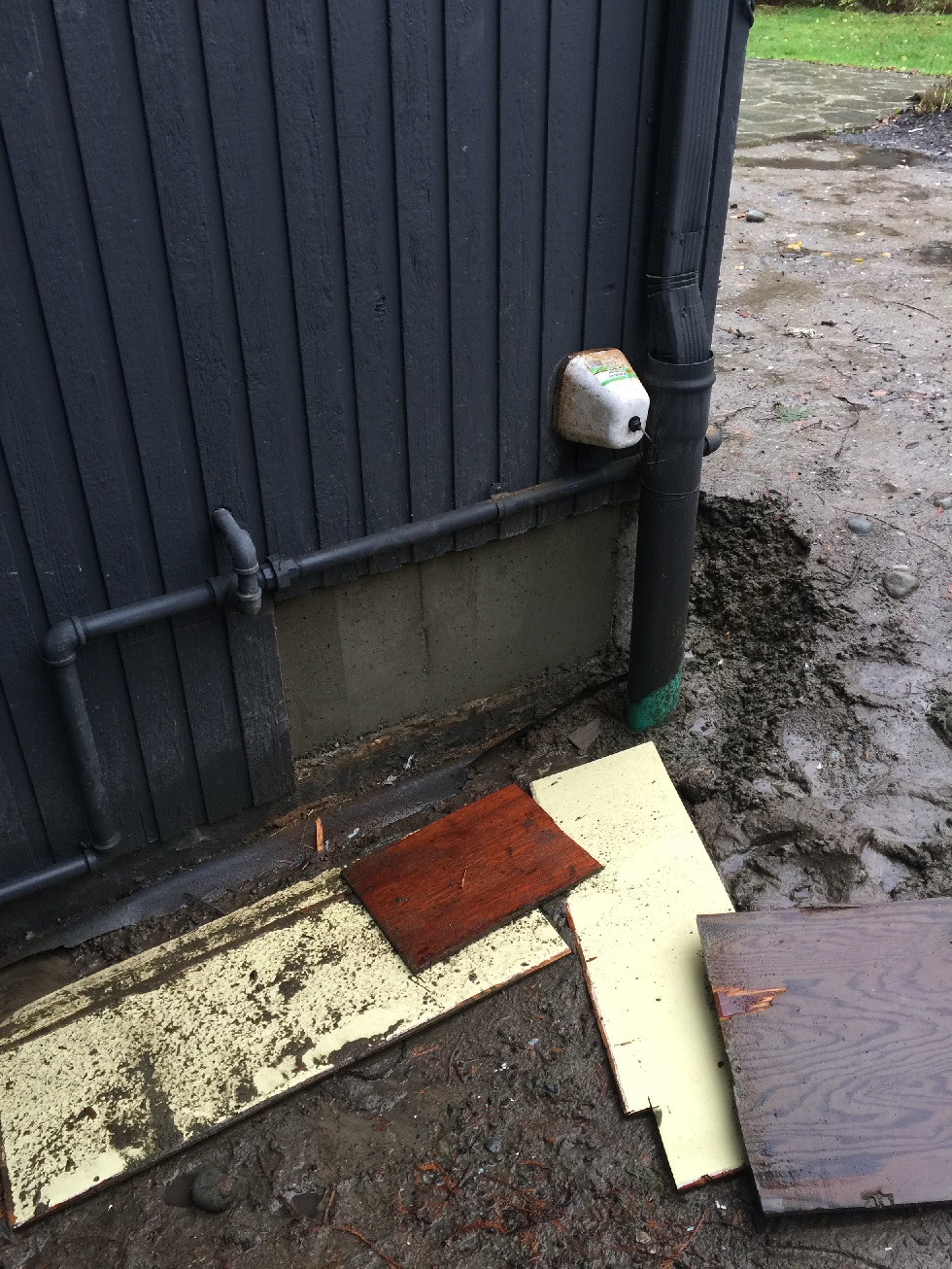 November 27, 2017 | Day 67
→ If you want to start the blog from the first entry, please scroll to the bottom
Change!  With every great plan comes change. When you are buying and selling real estate, you are making a change. When you decide to remodel right after purchasing a new house, there is even more change. When you start out with a plan, there will still be changes. Some that are in the plan and those that come about unexpectedly. What is great though is when you can take that change, and turn it into a better plan than what you had expected. This unexpected change can actually be better in the long run. Well, we have come across such changes, some sudden on the spot and not wanted at the time, but they can make the results better. As time goes by and as we move to finish this house by the end of the year, there have been changes. But luckily for us, our clients have been able to keep up with the changes and make quick decisions to adapt to those changes.
When you hire sub-contractors, they fall in line one behind the other for what they are working on. Sometimes if their projects don't cross paths they can work at the same time, this makes for a crazy busy house of workers. Most times there is an order and they need to follow one after another. But if a problem arises and one contractor gets held up in the process, it backs up the rest of the line of contractors. For example, we needed to get all out electrical and plumbing completed and signed off on(inspected) before we could get the drywall and insulation in and then be ready for paint and hardwood floors. We have been running late on both and have been holding up the drywall contractors. Keeping to a schedule and on track is challenging while keeping the flow of work moving quickly and smoothly. We have heard the term "managed chaos" as the definition of a general contractor and we concur.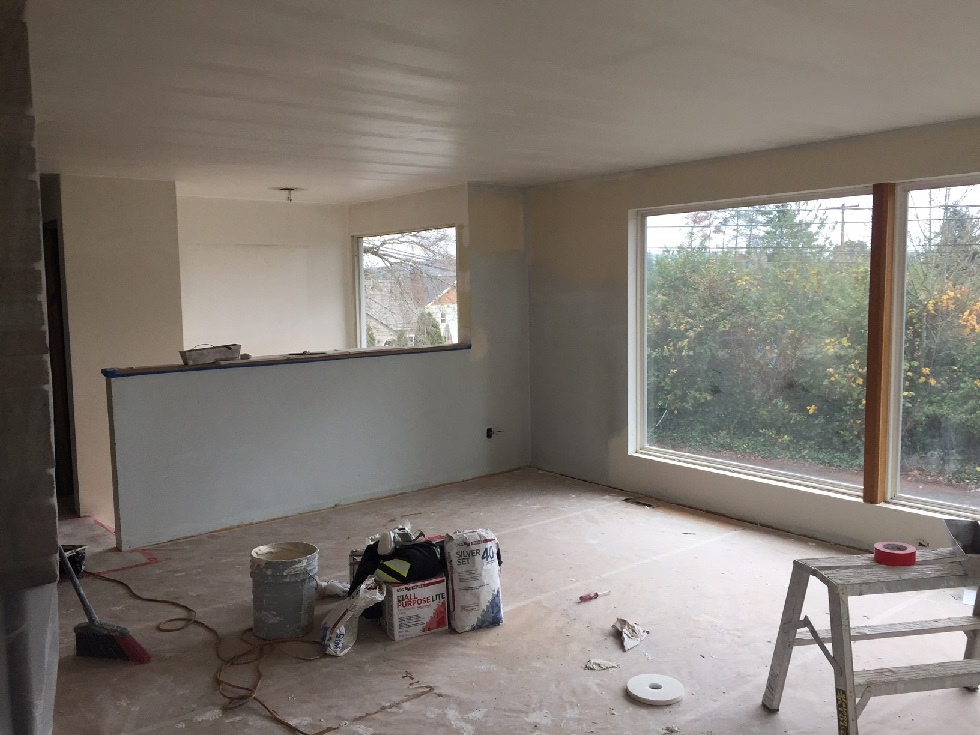 In preparing to put in the master bathroom shower we had the plumbers coming back for a final rough in before we would get it all signed off on and move on to drywall. So, we bought a one-unit prefabricated shower that was on order. This is a nice unit that gave the owners plenty of elbow room and looked really nice. The existing drain wouldn't fit with this shower and was corroded so it needed to be replaced. We had a plan when the plumber came out early on Monday morning to have the cement floor jack hammered to move and replace the old drain for the new shower unit. This was done and then the shower unit was delayed. The plumber was asking for the specifications and the actual shower pan for the new shower so they could finish the rough in. After checking on the shower unit we found out it was unexpectedly delayed and we needed to make another quick change for a different, locally available shower unit that would fit in the same spot. So, in working with the plumber, we ran to Lowe's to pick up a new shower unit, Renee ran to go rent a jackhammer for the carpenter to use and we were all back on track for the plumber by 9am. All was fixed and the shower will look better with the beautiful tile walls…which was not in the plan of the first shower surround. Here, change worked out in our favor, but sure made for a crazy Monday!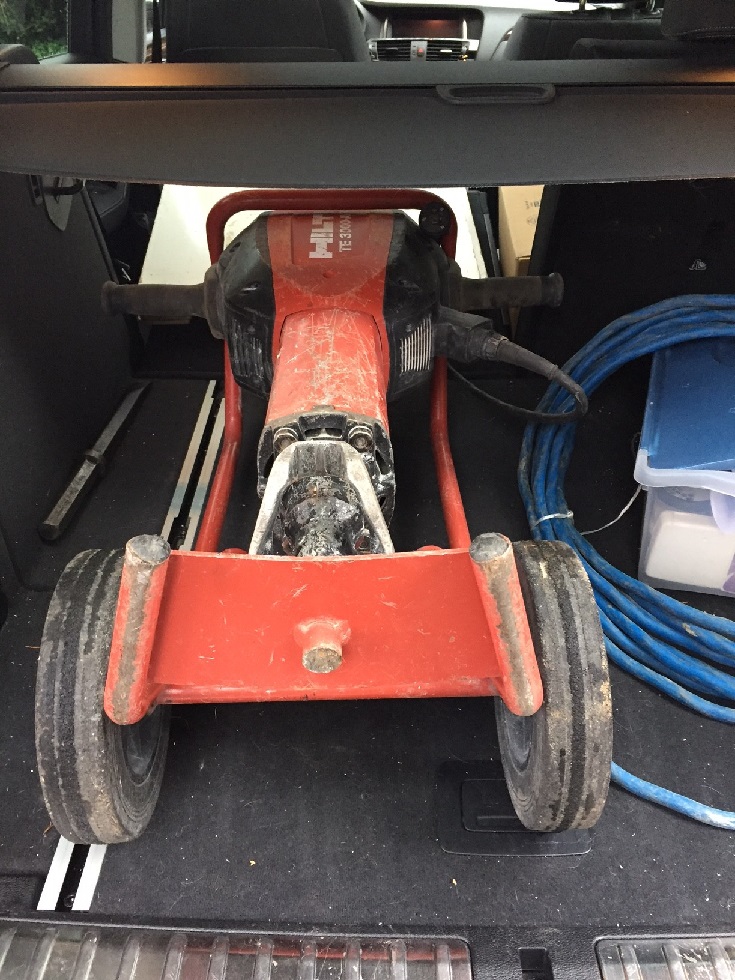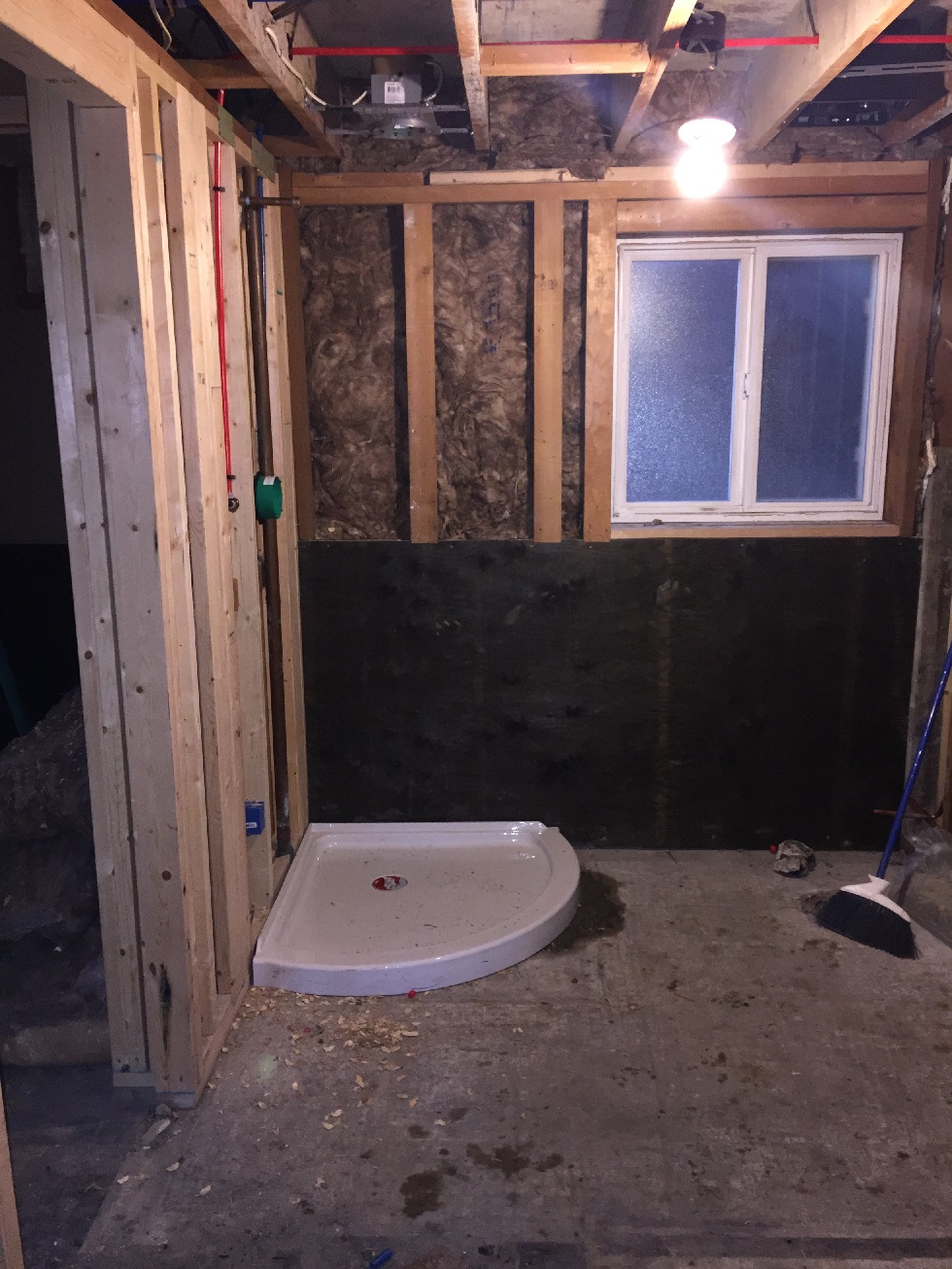 Renee arrived to the house the other day to find out rain was leaking into the basement bedroom through the French drain, which was supposed to keep the basement dry. Another quick change/fix was needed. Our carpenter jumped into action and realized that the foundation on that corner of the house was built too low and water was seeping over it. While the rain was coming down outside he tore into the outside of the house siding, got to the studs of the wall and added cement to the existing foundation to create a higher foundation level. The owner was luckily there that morning and he ran off to Lowes to buy a wheelbarrow and a trowel to mix the cement (they were not expecting to mix concrete that day).  Luckily with quick thinking and fast acting, we got this repaired and now the water can't get in. You can't control the chaos that comes up with a remodel but you can manage it with quick thinking and creative solutions. Having reliable people around who handle pressure and think on their feet to fix the problem is key in moving a project along and getting you to the finish line. Renee is outstanding at handling these situations and our carpenter is smart, creative and cool as a cucumber.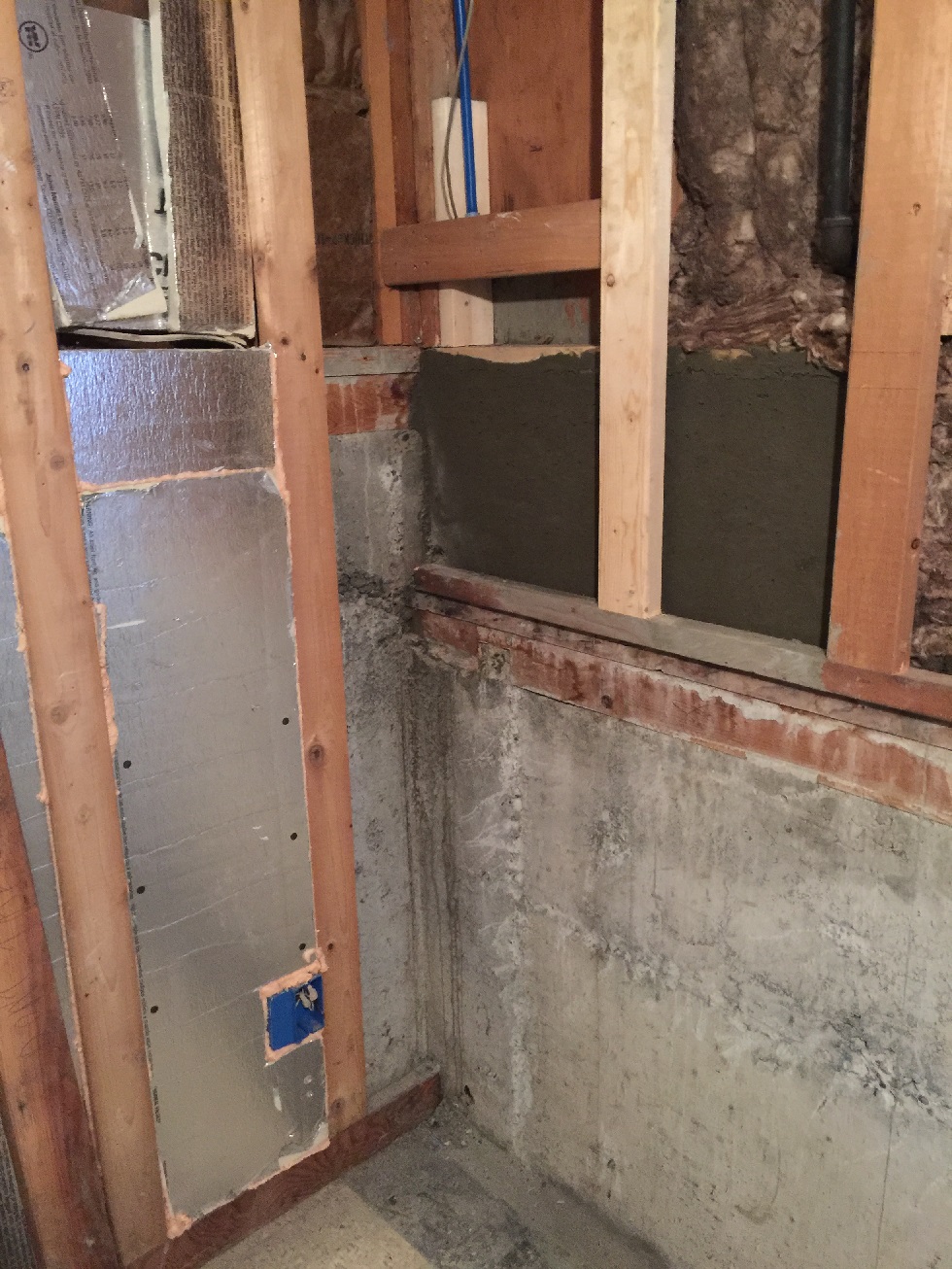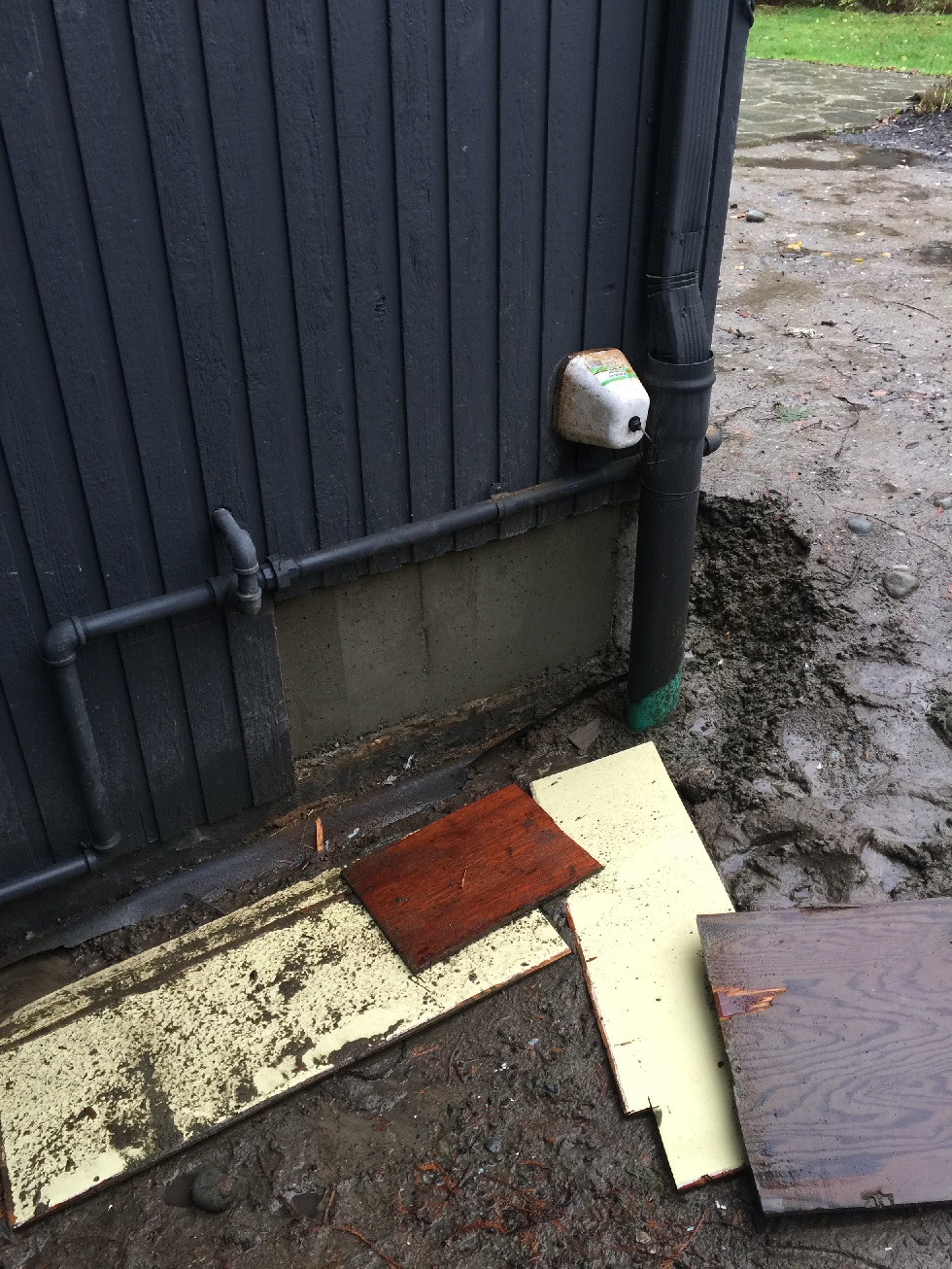 This week we got all of the new doors and closet doors delivered and we are finishing up with the drywall and bathroom tile. It is really starting to look like a real house and not just framing. I'm looking forward to getting the hardwood floors stained, the house painted on the inside and building that new kitchen. Change is happening and will continue to happen even faster at this point as it all comes together. It just keeps getting better and better!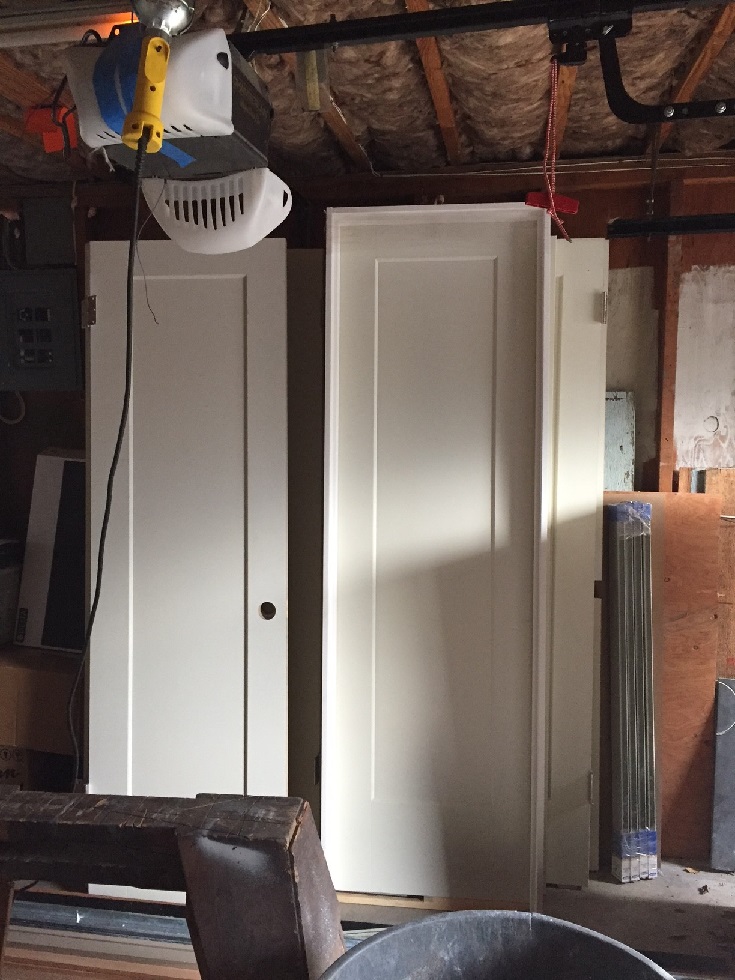 Thanks for reading and posting great comments, if you have more questions please comment and we'll get back to you.
– Renee and Jessica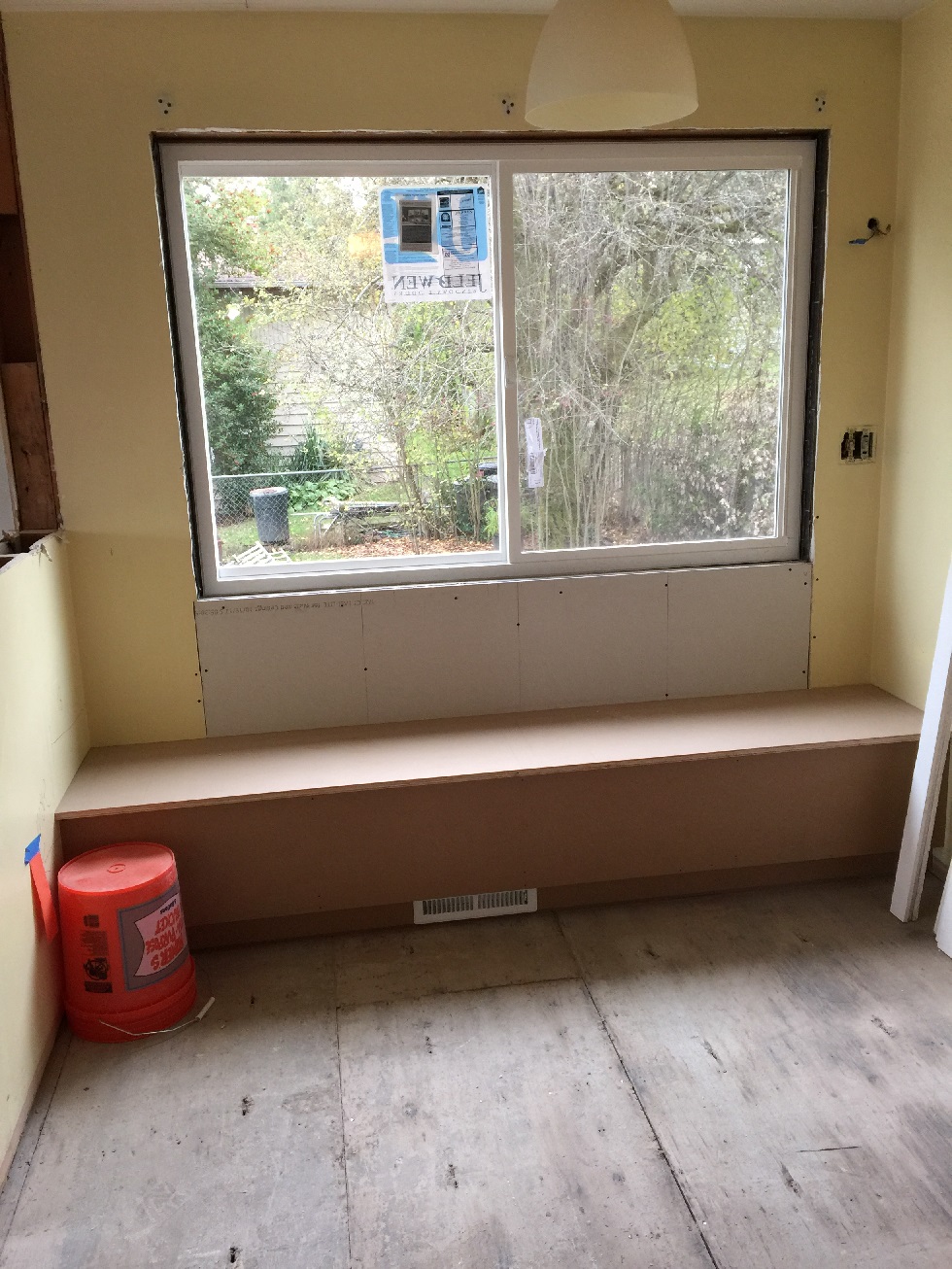 November 7, 2017 | Day 47
→ If you want to start the blog from the first entry, please scroll to the bottom.
"There is no place like home," I read those words and it just really resonated with me in regards to this project. We come and go from our homes.  Sometimes for a quick trip and sometimes for long bouts, but there really is nothing like coming back home. We are not just creating a house, but a HOME. Our clients are excited for their new home and we can't wait for them to move in.  We have our fingers crossed that will be by the end of this year, but the next week will dictate the move in schedule.
I was at the house today and it was freezing cold inside, remember there is no heat and doors are opened and closed all day, burrrr. The workers never seem to be bundled up in the cold house. I guess putting your sweatshirt hood over your head must keep you warm, I sure would need many more layers than that. They are troopers and they are getting the jobs done. Electrical is being repaired and reworked all this week and we hope to have the final sign off by the beginning of next week.  This is just the "rough in".  Rough in is what's behind the walls and in the Panel.  The fun stuff comes later at "trim".  This is the same terminology for plumbing.  Trim is when the new electrical/plumbing fixtures are hung and when it really starts to shine!  We also have the sign off for the gas piping and the new furnace.  This is also getting wrapped up this week so we will finally have heat-that we need now.
Time has gone by so fast on this project. This house is really starting to come back together quickly. This is rare that we are moving along as fast as we are, but it is great for the clients.  We are starting to see our design choices get implemented. The main floor bathroom has been tiled around the new tub and on the floor, grout will be completed today and it will be ready for the plumbing and electrical trim. In the kitchen breakfast nook, we built a bench with storage underneath, I can just imagine the beautiful (kid proof) cushion and pillows to go on top. The closet in the master bedroom has its pocket door installed and we finally got the furnace moved to its new location in the laundry room, this opened up so much space for the new master suite.  It is really quite a transformation that is hard to see in photos.
We had the gutters guys come out at the end of last week to install new downspouts, of course it was going too smoothly until one of the parts that goes from the gutters and attaches to the downspout, snapped off. Guess what? The gutter guys don't repair that one piece because it came off of the internal gutter system that is attached to the roof, you following, it was hard for me too. The things I have learned on this project. Of course, the rain was coming and I had to get this fixed, now. After many days of calls, amazing how people don't call you back even after you leave them multiple messages, I used our construction contact (Lau Construction-Roofing) and he sent out a guy who fixed it, $450 later, but it is fixed and rain can now go freely down the downspout.  Lau is a great resource!
We timed the painting of the outside of the house perfectly.  We had a beautiful stretch of sunny warm weather a week ago and got the whole thing painted. We choose a dark color to cover up the imperfections on the outside of the house and it turned out great. The white trim goes perfectly with the windows and just pops. Once we get the light fixtures hung on the outside and the new garage doors, we are set for the exterior.  Then the landscaping is up to the clients and they will work away at this slowly and into the spring and summer.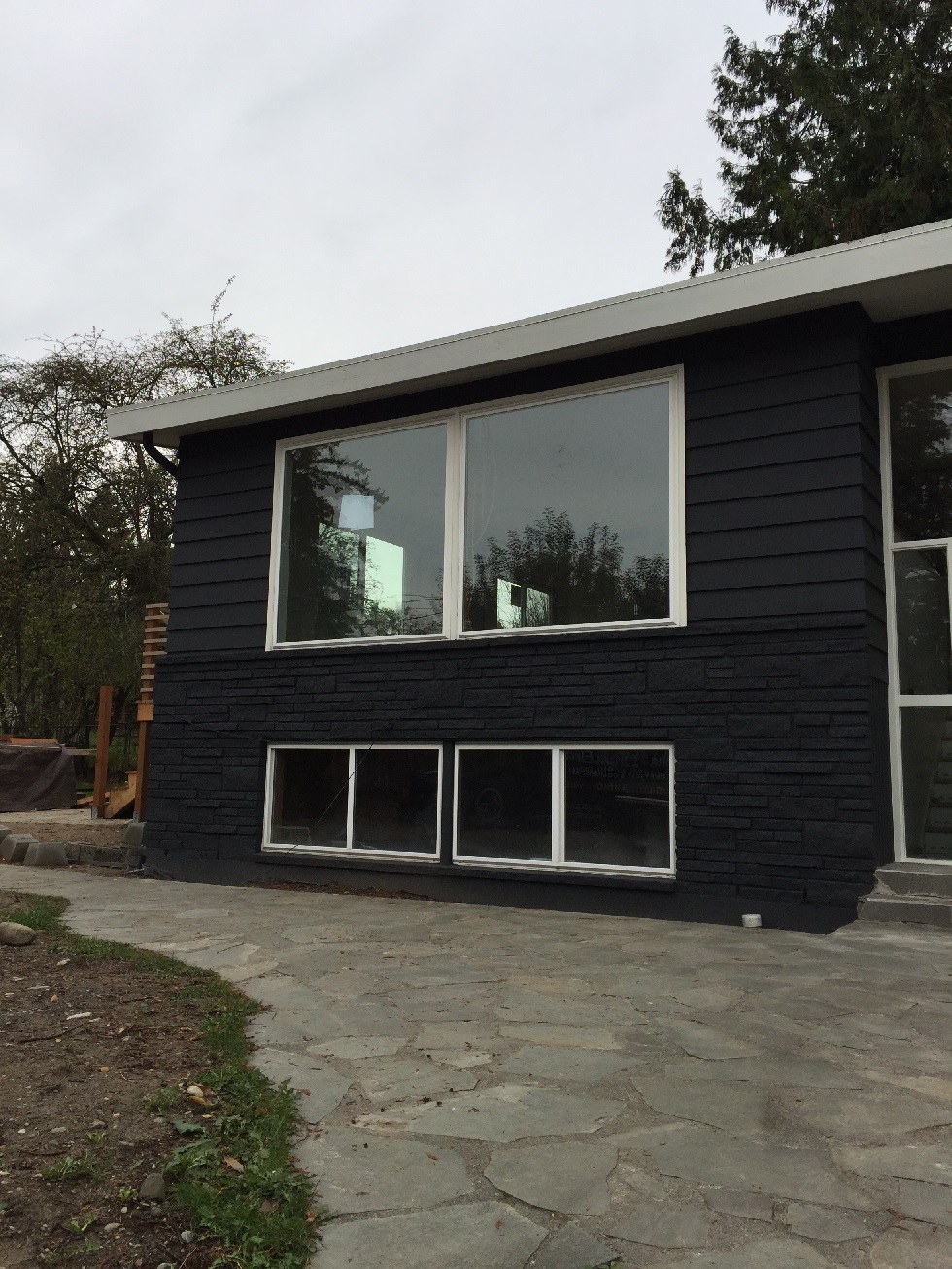 This house is now completely critter proof!  It is clean and there is no place for them to get in. We have repaired all holes, reinforced any questionable areas and all new drywall is being put up soon, it's almost like a new home. It is going to be safe(electrical) and free from leaks, holes and moisture.  It will be insulated and will feel like a fresh new home. It smells good and feels good!
What's coming next?
I finalized our new door and door hardware order. Did you know that you can actually spend many hours on figuring out not only what door levers would look best for this type of house, but what way should the door swing, what side are the hinges going on, is it a left handle or right handle door, I think you get the idea! But I'm done, so glad our clients love the style and the satin nickel finish. They are going to look beautiful with the single panel clean white doors. This will give the house both a traditional and contemporary look, which is what we are going for.
The electrical install will finish up in a few days, then comes the drywall, the rest of the plumbing, insulation and then painting. The hardwood floors will get refinished then kitchen and bath cabinets and counter tops will be installed.  December will be quite the month of noted improvements and it will be like Christmas for this house!
Thanks for reading and posting great comments, if you have more questions please comment and we'll get back to you.
– Renee and Jessica