October 25, 2017 | Day 34 
→ If you want to start the blog from the first entry, please scroll to the bottom.
We are starting to see the light at the end of the tunnel. There has been lots of change to the interior and a couple big changes are taking place this week with the exterior-the house is getting new gutters and we are painting.  Pray for sun!
The areas of the house that needed new walls built or walls taken down have been completed. But of course, we can't have a week without mentioning rats, what fun would that be. While taking out the drywall in the basement bathroom our carpenter thought there was a brillow pad in the wall but it was a dead rat. He  also discovered a few rat's nests in other parts of the basement wall insulation as well. It was funny when he said, "it's always a surprise",  I bet it is, no thank you. Glad we decided to remove that section of drywall at the last minute. Yuck!  I think we are past all the bad stuff (sewers, rot and rats) and can move into the fun stuff!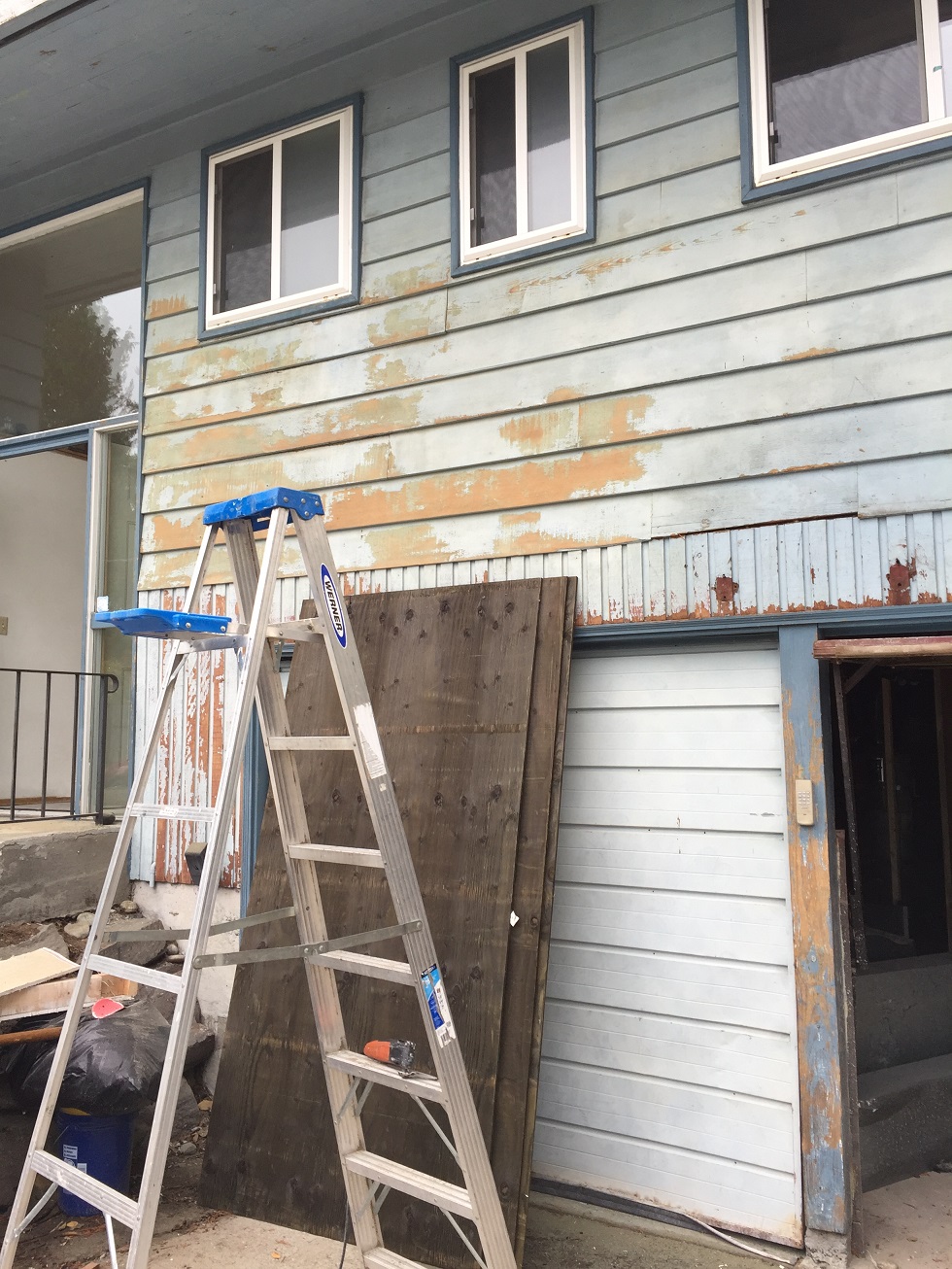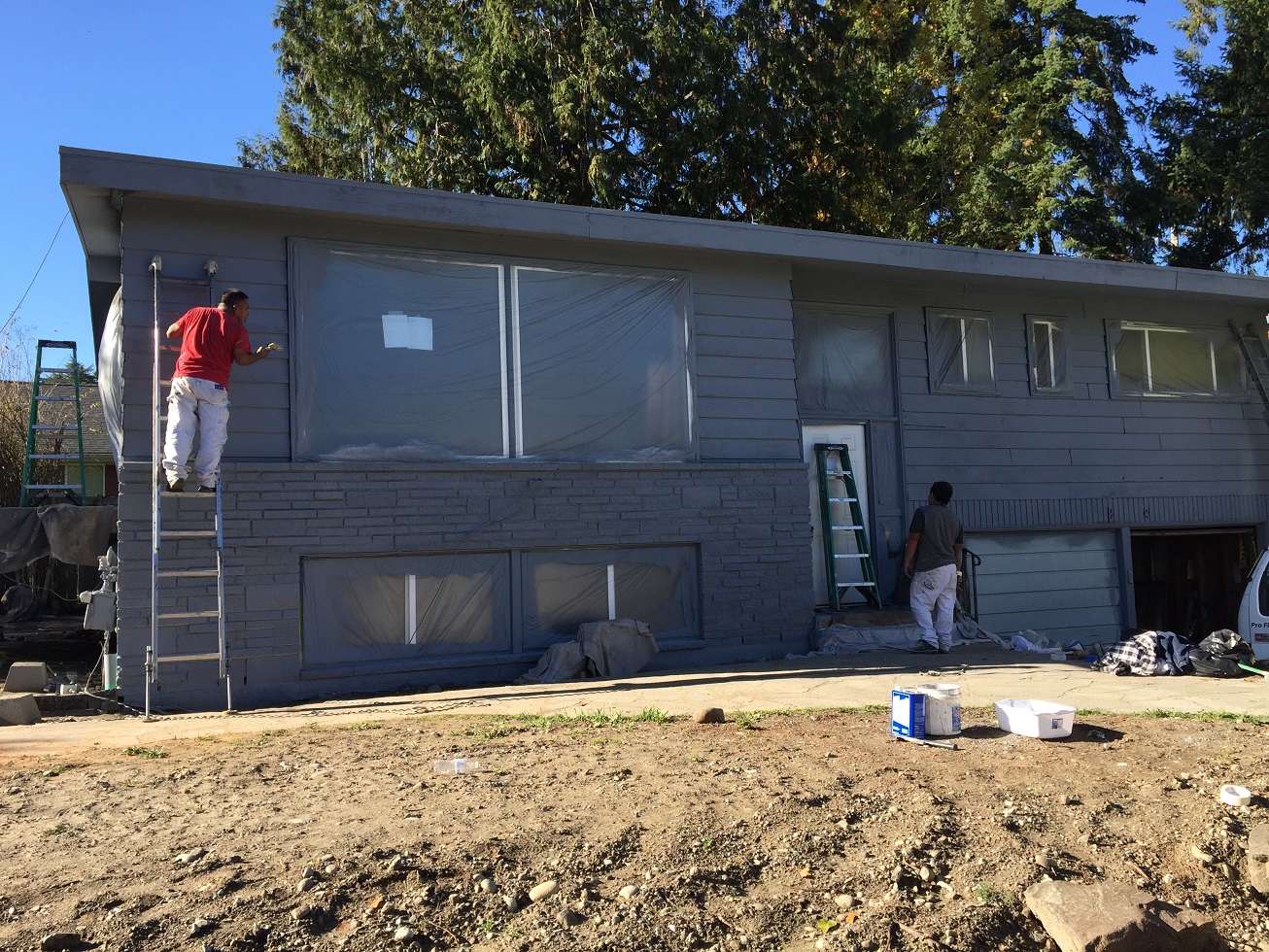 In the last week we built the walls for the new master bedroom, bathroom and closet. It's so fun to take awkward/inefficient space and make it into a useful/purposeful space.  It is completely different! The deck is almost done, it just needs railings and stain. The outside of the house has been prepped for new (dark colored) paint. We want to hide the imperfections and all the different textures and make it pop with creamy white trim. We had a sewer company come out today to scope the master bath toilet and shower drains because the bathroom was so bad we wanted to make sure there wasn't anything stuck down there (a rat perhaps).  We don't want it to flood after their remodel was done. Thankfully it is all clear and clean.
Something to be aware of when you get bids, ALWAYS read the fine print, compare line items and ask questions. We had an example of this just the other day when a garage door company gave us another quote, this one we asked for less expensive doors,  but it came in higher from the first bid. This shouldn't have been the case since we asked for less expensive doors. But in reviewing the two bids we noticed line items that should of been the same dollar amount but were different, this second bid actually came in higher than the first. We are not feeling very confident with them so getting another company to give us a quote. Another slight hurdle.
Either Renee or I are on site everyday making sure that everything is going according to plan. There are times that you find a better way to do something or have that "aha moment" over a new idea and it's exciting because you feel that you are making something really great for our clients. During this process, we ask ourselves questions constantly; how will the clients live in the space and how do we create flow and continuity throughout the house. How does the lighting look, how much lighting (always keeping budget in the back of our minds). Making choices that go with the style of the house and the lifestyle of the clients (how hard will they live in the house, kids and pets add wear), do they want open spaces or storage (always a tough question) and will they want electronics (TV's, outlets, etc.).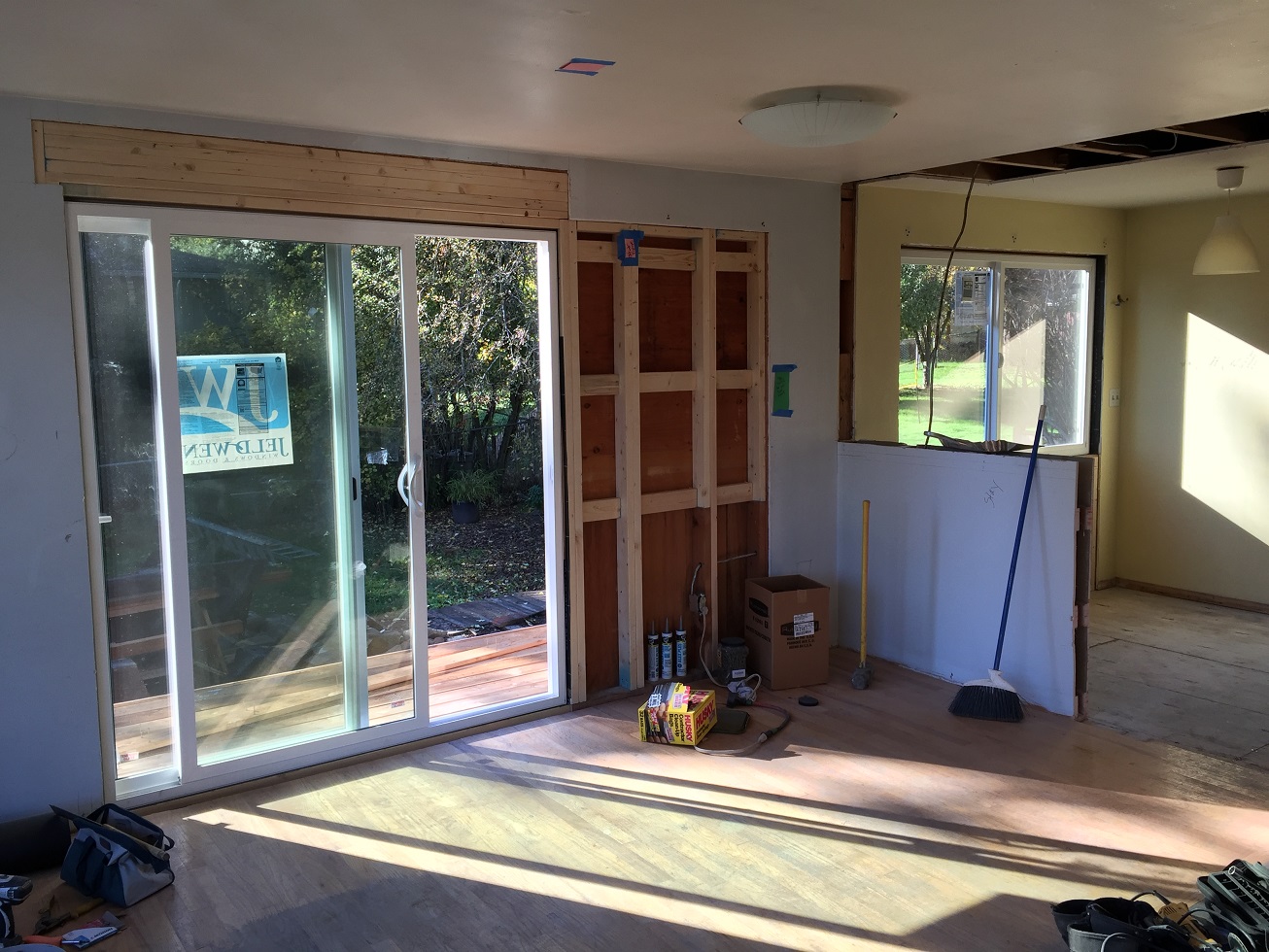 A lot of people find it daunting to take on a remodel, regardless of the size. It can be overwhelming and you just don't know where to begin. Here are some tips to help get you started if you want to tackle a remodel.
First, decide why you would like to remodel. There are several good reasons to renovate. Your home may no longer reflect your tastes or your lifestyle. Your family dynamics may have changed. Maybe you'd like to make your home more environmentally friendly. You may even be planning a move in the future and you would like to invest in your home to make it more marketable (Hint, Renee can help you with that).
Whatever the reason, identify it. If there's more than one, that's even better! The point is that in order for you to be happy at the end of the project, you need to first understand why you want the change. What are you trying to accomplish?

The next step is to make a list of every upgrade you would like to get out of the remodel. Divide the items on that list into 3 categories:
a. Must-have items
b. Would-like-to-have items
c. Dream items
Building this list will help you and your remodeling contractor prioritize during the project. This list will tell you which items to cut if you can't afford everything and which items to add in, if some of your upgrades aren't as expensive as you thought.
Once your list is complete, think about your budget, but don't over think it. To many projects get hung up on this and never even begin their projects.
You must begin to calculate what you will be comfortable investing in your home, but remember until you meet with a contractor, you won't be able to take into account what the whole project will cost. Plus, everything is always more expensive and there is always more work than you think. You can't have a new kitchen without considering the electrical and the plumbing. You typically need to upgrade those items in the process. 
Once you have created your list of remodeling projects and considered your budget, it's now time to find a professional contractor, and a designer or architect, who will develop a plan to make your project a reality. Typically the designer or architect will design the project and the contractor will price it and then do the work. Rarely does a contractor design. There are Design-build contractors and they do both (This is what we are emulating on this remodel).
Don't settle for just anyone to remodel your home. Select a contractor that is insured, experienced, and comes with good references. If this person you interview seems too good to be true, this could result in a low-quality renovation and cost you a lot in the end. Ask friends and family for referrals; even posting on social media will get you some names, just ask around.
Our clients have been so sweet and have been SO appreciative of all that we have done. They have been giving us gifts of flowers, wine and even baked our carpenter homemade cookies! Especially nice after all the yuck he has had to deal with!
The next couples weeks will bring a lot more progress. We have outside painting taking place right now and starting tomorrow the tile is being placed in the main floor bathroom. Then comes electrical, furnace work, more plumbing, new insulation and drywall. Hardwood floor refinishing will be next and then the interior painting. Kitchen cabinets will be installed, tile and trim work completed, then new flooring in the basement and new light fixtures. Soon it will really start to look great! Still lots to do. Stay tuned.
– Renee and Jessica